In 1998, I stopped writing in a journal. Up until then, I had been an avid journal writer for 25 years, and I protected my writing time with great discipline. For years I spent each early morning, sitting at the pond, writing. I never thought of myself as a "real" writer, but I did see the process as one that helped me to know myself, heal my wounds, and help me find the direction forward.
Then one day I woke up and realized that I was writing about my life, but perhaps not experiencing my life. I was aware that I could pick up any of my 25 years of journals and they would all say some variation of the same 10 things, mostly about my perceived shortcomings, ways that I wished I were a better person, or exploration of some way someone else had wronged me.
So, I just stopped. I didn't replace it with anything else, but focused instead on living my life instead of writing about it.
This worked until 2006, when my younger brother Verne died. I had so much grief that I had no way to work through it, no process in place to deal with my feelings. One middle of the night, I started playing with fabric, without planning or thinking. It became a way for me to process my grief and eventually became a way to process my pain as well as plan my possibilities.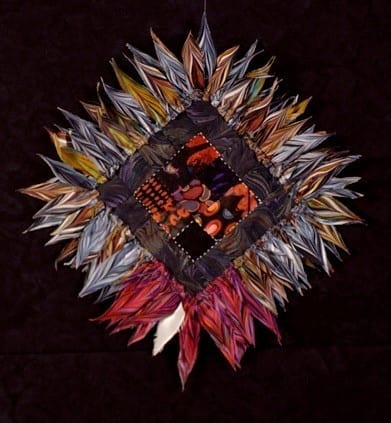 Journal Quilting was born!
It is still, 14 years later, the process I use for my own personal exploration as well as what I use to teach people how to break open their creativity.
Journal Quilting involves beginning with a question that I am living with (for instance, What comes after lyme disease? What is intimacy?) or issue or problem I am facing (What is up with me and men anyway? What am I facing or afraid to face right now? What's next?). Once I know the focus, the fabric comes out and the very wild, unpredictable, and surprising process begins.
I try not to figure out the answers. I try to just put out the question and let the fabric answer.
There are questions that guide me, that help me to stay curious, non-judgmental, and open to whatever shows up.
What can I do that won't compute? This might be choosing a guiding question that I don't already know the answer to. Or choosing fabric I don't like to break me out of the box. Or taking an uncomfortable risk with shape or design. Or simply cutting it up and putting it back together.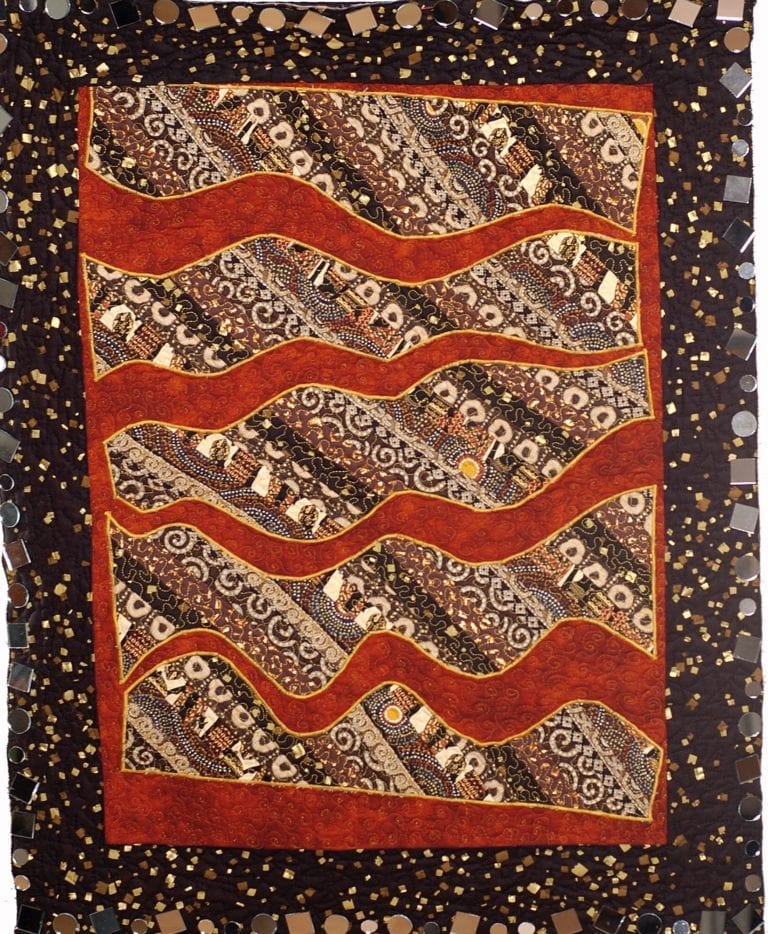 How can I get into the experience instead of thinking about it? I am a thinking kind of gal, and I look for ways to engage with my senses instead of my brain. Feeling the fabric, letting the texture or color guide me. Or, let the view out the window tell me where to go next.
What has my attention in this moment? What drives the process and how can I let me emotions or my body lead the way? What color speaks to me? What unusual combination of fabrics catch my eye?
How can I give up making something that is "good'? This journal quilting process is all about keeping possibility open and being experimental. Trying to make something that is "good" is the death of these things.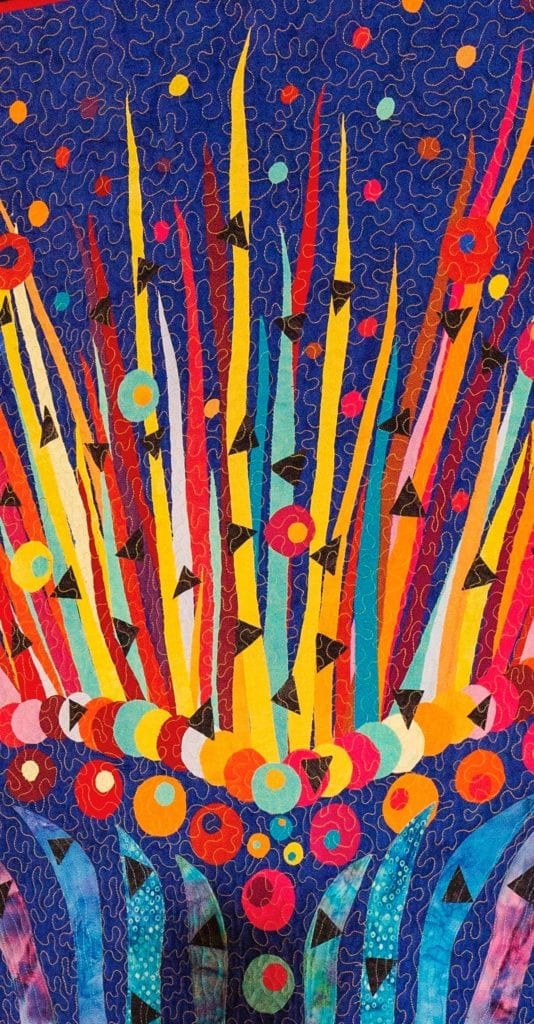 What if the piece I am creating has its own idea of what it wants to become? Just asking this question gets me out of the way and more into the process. One time I thought I was making a quilt about how much I missed my flower gardens in a previous home, and in the end it was a celebration of the hatching cicadas in my new home.
What if this process is just an experiment? Experimentation and curiosity are the antidotes to judgement, so reminding myself that it is all experimental also helps get me out of the way of the process.
How can I be patient and let the message of the work come later? In regular journal writing, we often write to understand. With Journal Quilting, you state your question or issue and then let it go, and let the fabric respond. Because this is a right brained process, the meaning is not always immediately obvious. Live with it and let it reveal the secrets over time. Sometimes the PROCESS reveals the answers and sometimes the PRODUCT reveals the answers.
Intrigued with the idea of Journal Quilting? Join us for a Journal Quilting Workshop here at the Kellogg Sister's Farm. No sewing experience needed at all!