As the pandemic continues its course, I've had plenty of opportunities for pondering life, dreaming, connecting with friends via text/phone/zoom, wishing and hoping.  I've seen plenty of disruption in the covid wake as it wreaks havoc in many lives.  I've also seen some silver linings here and there.  While I am grateful for zoom and phone calls, for me it's a far second to in person interactions.  I long for the days we can connect with friends in person without worrying about infecting one another.
I look forward to hearing my friends' pandemic experiences in person someday soon.  I strongly value connection and sharing deep, personal thoughts, experiences and feelings creates connection for me.  The pandemic has been an exercise in navigating the unknown, and everyone has to make the decisions they feel best through this time.  We are all doing the best we can, and I know that accepting others where they are without judgement is important esp during this time.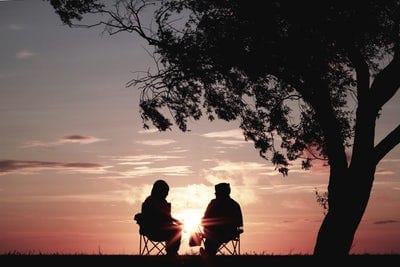 I love storytelling – both listening to other's stories and weaving my own tales.  I particularly love stories when the teller becomes vulnerable in what they choose to share.  For me it creates a connection as I sit in awe of their courage and understand my friends at a deeper level.  I join two storytelling groups on a regular basis and I eagerly anticipate the day when we can gather again in person. 
Kellogg Sisters Feed & Seed has always been passionate about sharing stories and connecting people in both local and global communities. Our latest partnership with the Corona Quilt Project allows us to create space for those things in a new way, helping to share peoples' experiences with the COVID19 Pandemic.  
I created a square for the Corona Quilt that tells my dream for the future: ""Inter" into our post Corona world, an interdependent, diverse community full of love, harmony and peace."  I thoroughly enjoyed cutting out fabric creating diverse people, all walks of life from all around the world.  The only action word is "inter" (play on words for both enter and interdependence) with an arrow pointing to the center of a large heart. 
You are invited to create a quilt square, to join your voice with others, worldwide, to tell a global story of the pandemic and our collective hope for the future.  Quilt squares can be submitted virtually, or you can mail in a fabric square that will be sewn with other squares from around the world.  Click the button below for more details.
 Kellogg Sisters is introducing Creating Beauty from Chaos, a 4-week series that will challenge you to engage courageously & creatively with the chaos in the world and in your life. We invite you to use your hands and connect with your heart in order to search for solutions and novel ways of approaching these disruptions as opportunities.  The first call is June 18th.  No prior artistic experience needed. All ages welcome. All of these calls are being offered in the spirit of the gift. Our hope for these calls is that you will find your way through the trauma and confusion of these chaotic times with creativity and courage to do the work that is yours to do.
We look forward to connecting with you through the Corona Quilt and our Creating Beauty from Chaos calls.