These standing suckers are one of my favorite crafts because they are quick, easy, fun to make and look tidy all tied together with a bow. I must confess, I make these for Valentine's Day, every year, and my friends and family are always happy to receive them. But they are the perfect little blessing for any occasion. They look great, simply decorated. Or you can add a little label to one side with words of appreciation, motivation or love for the recipient. Since they stand on their own, they are perfect for leaving on someones desk, nightstand or counter, as a little encouraging surprise for them to find.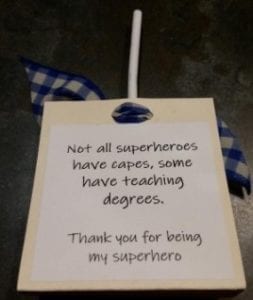 To make these, you simply cut a piece of card stock (or recycled manila folder) roughly 6 inches (15 cm) long by about 2.25 inches (6 cm) wide. You can use your sucker a as a guide, as you want the card stock to cover the sucker with a little bit of space above to tie the ribbon. Fold the card stock about 2.5 inches (6.25 cm) from each edge, to make a base. Holding the two ends together, punch 2 small holes through both layers, then decorate the outside with stickers, fabric, craft paper, paint… whatever! Add the sucker, then insert the ribbon through the small holes and tie it to secure.
I love this craft for a number of reasons. First, it is a great way to reuse stuff. I have worked in accounting and office settings long enough to intercept old manila folders from the recycling bin and cut them up for my little standing suckers.  It makes it earth-friendly and easy on the ole' crafting budget. The ribbons needed for the bow are a great way to use up lots of old mismatched ribbon pieces that are too short to be of use for much else. I've found that the decorations on the front and back are a great place to use those leftover pieces of craft paper that are too small for much, but just too pretty to throw away.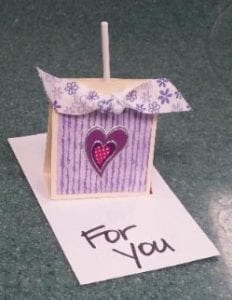 Another reason I love it is because you can do a lot of the prep work for these ahead of time. I pre-cut the manila folder strips and made templates to measure out the folds and pre-cut the squares out of a variety of colors & patterned papers. That way if I need a thoughtful gift in a pinch, I can throw one of these together quickly. These are also a very simple craft to do with your non-crafty friends or even small children. 
I really love finding little ways to brighten people's days.  I love giving out these standing suckers. I make a crazy number of them. Some are personalized, while others are generic.  I give them to friends, neighbors, co-workers, teachers, people I see on a regular basis, like grocery store employees and some I leave them in public places to be found. I love this craft and I hope you will, too.